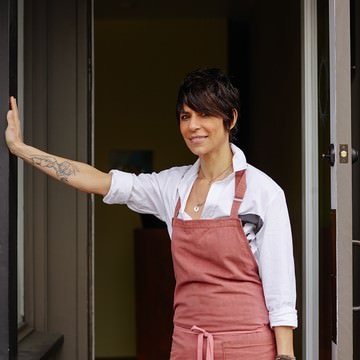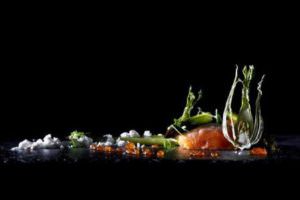 On Dominique Crenn's right forearm is a tattoo of a young girl gazing up at a winged piglet swooping past her flowing hair. "Pigs can fly," "It's a reminder that you can do anything you want in life. Anything is possible."
Dominique Crenn? If you don't know you will now.
Raised in Versailles, France
Before attending college, Dominique travelled extensively through Europe to learn the endless styles of cooking and possibilities of using ingredients from each culture. Dominique moved to San Francisco in 1988, where she began her formal training as a chef, fell madly in love with the city. She worked under Jeremiah Tower and Mark Franz for over two years at the celebrated Stars.
She moved to Indonesia in 1997, where she made history as the first female executive chef in the country when she took the helm at the Intercontinental Hotel, in Jakarta. Due to the political turmoil in Southeast Asia she returned to California in 1998 to accept the position of executive chef at the Manhattan Country Club, in Manhattan Beach. Club members like Al Gore, Los Angeles Mayor Antonio Villaraigosa, Juliette Binoche, Sidney Poitier, Sharon Stone, Cindy Lauper to name a few.  She then headed up Luce at the InterContinental Hotel, where she gained her first Michelin star in 2009.
The decision to go out on her own came after a life changing moment in 2009, when a freak accident nearly ended Dominique's life. "I fell in my bathtub and almost sliced through a main artery in my leg," she reveals. It was then that she got her tattoo and really started to take her career into her own hands. "I decided to open my own place, a place that would be more than just a restaurant. It would be my house, my living room, a place where I wouldn't do what was expected, but where I would do my thing."
What did she open? She opened Atelier Crenn as a homage to her father, who passed away in 1999. menus are poems inspired by her childhood and travel experiences The restaurant quickly earned its first Michelin star, and Crenn was awarded a second star in October 2012, becoming the first female chef in the United States to receive this accolade.
Domonique has been named the best female chef in the World 2016 which has previous winners such like Hélène Darroze, Helena Rizzo and Nadia Santini.
The jury appointed by "Chef Of The Century" Eckart Witzigmann has made its selection: This year's international Eckart Witzigmann Awards (ECKART) will go to Andreas Caminada (Switzerland), Sebastian Copeland (USA) and of course Dominique Crenn (USA),
Dominique Crenn? If you don't know you do now!