It truly is a great time to be a chef!
Unique, exciting, rare roles and prestigious locations….. there has never been a better time for chefs and their opportunities. Jubilee, even during lockdown, have been working diligently to source and prep a huge range of chef posts across the entire UK.
Great rates of pay, often very flexible working hours, high end brands to work under and much more as the hospitality sector continues along its path to full re-opening. Multiple roles are available such as:
Head Chefs
Sous Chefs
Commis Chefs
Chef de Partie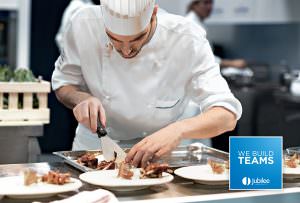 The re-opening of hospitality post-pandemic, has also seen a rare and unique set of jobs become available, that typically wouldn't happen under normal circumstances. These are the roles that Jubilee are currently recruiting for, and we are in a unique position to help get you, the chefs, placed in work.
For context, www.caterer.com, the largest Hospitality jobs board in the UK, have over 22,000 regular and newly published jobs. This spells great news for the future of chefs in the hospitality sector.
If this sounds like you, and you want to get your unique job placement, Jubilee are here for you, it just takes a quick call on 0121 236 4993.
www.jubileetalent.com