So, every chef in the world has people who they look up to from Fernand Point to Marco Pierre White to Heston Blumenthal. The chef who I used to admire in the later years of my career was Rene Redzepi the head chef at Noma, Copenhagen. I have had many chefs who I looked up to when I was younger from Gordon Ramsay, I used to love reading the Chef for all seasons book which was my leaving present from Wentworth Golf club through to Ferran Adria at his heights of the greatest restaurant in the world El Bulli. But then back in 2010 Noma moved up from the 3rd best restaurant to the number 1 restaurant in the world where they held this title for 4 of the next 6 years, this caught the eyes of the culinary world and made everyone interested to see what exactly was all the hype about a restaurant in the Christianshavn district of Copenhagen, which is an eclectic area with brick lanes, and houses that date back to the 16th century.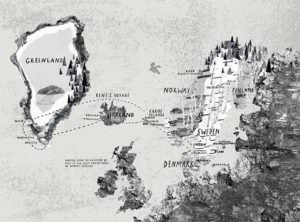 The thing that grabbed myself and many other chefs about the restaurant was the ethos that surrounded it. They only use food that is sourced in the Scandinavian regions. As you can imagine this must be extremely difficult with the temperatures in some areas getting as low as -30c. The whole of the area is also sparsely populated with it being populated by approximately 27 million people covering the 8 countries. The region comprises of huge expanses of un-spoilt wilderness -mainly forests, meadows, mountains and water which is largely inhabitable. One of the ways that they get around this is to use modern and ancient methods of preserving foods.
But with years of research and travelling across the indigenous Scandinavian areas they found that all they needed was right on their doorstep, from Vegetables that are grown by pioneering farmers in Lammefjorden, which is an area of Denmark that is below sea level where farmers have been experimenting with growing vegetables from 1882, this is where the White Asparagus is grown in one of the classic dishes of Asparagus, Bulrush and Duck eggs (pictured below) which is comprises of slow cooked duck egg yolks , white asparagus and bulrush emulsion, a sauce made out of woodruff and then garnished with butter poached white asparagus, beech and hop shoots and crisp ciabatta style croutons. All of which have been sourced as local and fresh as you can get to create a simple but incredible dish.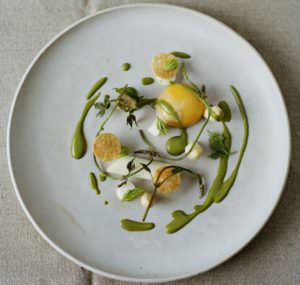 They have a farmer on the most northerly tip of Denmark in Dronningmølle which supply's chickens, black and white Landrace Pigs and a flock of sheep of an old Scandinavian breed. They also have about 50 Danish Red Dairy cows, that represents one in five of the total Danish stock of this breed. The farm is run on the biodynamic principles laid down in the anthroposophical works of Rudolf Steiner (https://en.wikipedia.org/wiki/Rudolf_Steiner) This is very difficult to understand and even more difficult to explain but what is known by Rene and his team is that you can taste the difference in everything that is produced from this farm and this is what sets Noma apart from the other 99% of restaurants in the world is that they are willing to experiment, willing to take a journey into the unknown in the quest for the best possible produce to create the best possible food and experience for the customers that travel from across the globe to sit in their modern canvas of a restaurant in the heart of Copenhagen.
One of the most surprising things that I and probably the rest of the culinary world have found is that they have only ever been awarded 2 Michelin stars which is quite mind boggling especially as they have been at the top of the world's best restaurants list for many years. I often wonder how the team reacts when the guide is released every year, are they disappointed each year when the guide is released and they are still at 2 stars and seeing that other restaurants across the world are gaining 3, with Noma being at the top of the echelons of the Worlds 50 Best restaurants list for the past 10 years http://www.theworlds50best.com/ . Or are they past this now and only think about what they are doing and how to push to the next level of culinary excellence.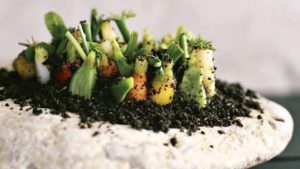 At the end of 2016 Noma, as it has stood since 2003 will be no more. In January 2017 the entire restaurant and all 80 members of staff, moved home to a warehouse in Sydney to bring Noma and their ethos to Australia. it involved not only creating entirely new menus from native produce, but moving 80 employees and their families to new country thousands of miles away on the other side of the world in a completely foreign environment for a five-month period.
Now though they are opening a new restaurant ant a different site in Copenhagen called "Under the bridge" which is a 10-minute walk from the original site to a former military warehouse that once stored mines for the Danish Navy. Rene now wishes to create a restaurant with an 'urban farm', where he can be in ultimate control over all processes 'from farm to fork'. And as always, the innovative chef has wild plans; A greenhouse on the roof, cracked asphalt to be peeled away to make room for new land, and a platform on a lake on which to grow vegetables on a floating field where they will be opening the restaurant in 2018.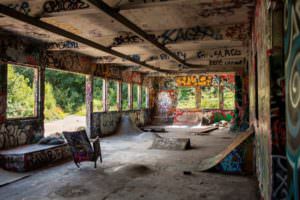 When they purchased the site, it was completely abandoned and had been taken over by graffiti artists. The one-storey property is about 100 yards long, which is far bigger than the original restaurant. They will create areas for offices, a gym as well as more ambitious elements of the trade, such as a smokehouse and stone ovens. The actual setting which is on a lakeside, surrounded by parklands and trees, with a modern housing project on the other side of the lake. Much of the greenery on the disused property consists of wild berry bushes, which will be left as they are.
To follow the progress and when this new adventure from Noma will be opening follow them on this link http://noma.dk/under-the-bridge/
David Hammond.