Street food is undoubtedly one of the most beloved trends in eating out nowadays. The impact of street food on the global market is huge mainly because street food gives the consumer the opportunity to taste the culture of the place in its true form. No matter how authentic some restaurant food claims to be, nothing beats street food when it comes to knowing about the cuisine a little on the raw side.
From the good old days itself, street food has always been a part of every culture, but now it has evolved to a much more international concept where consumers get to taste street food from around the world in their own streets. The evolution began in London during the 12th century with shopkeepers selling hot sheep's feet from pushcarts. By the 18th century, they started selling pies and pasties stuffed with meats. Many vendors brought delicacies from the surrounding countryside into the city such as Italian ices or strawberries that they sold from pushcarts. By the early 19th century, vendors were selling warm eels, pickled whelks, oysters and fried fish with hot peas. During this period, there was an increase in the number of street vendors due to the influx of immigrants into London. As new waves of immigrants settled in to the city, they began selling their goods and markets such as Spitalfields became the epicenter of a massive, multicultural exchange of food. When the financial crisis of 2008 hit the world, the restaurant industry took a huge blow. Many restaurants had closed, leaving talented chefs with nowhere to work.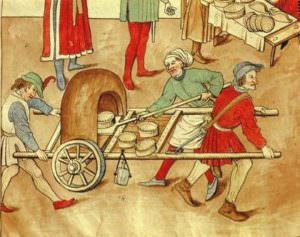 Since buying a restaurant was too much of a financial risk, chefs took to the streets and started selling gourmet food from food trucks. These trucks sell much more than just tacos and sandwiches. Now, food trucks have become the chic places to eat. As the marketability of the trend has caught on, many other food trucks have followed suit and today it is an integral part of the food scene. With 2.5 billion people eating street food every day, customers Instagram their burritos and tweet their pancakes, sending images of the vendor's food all over the country, and the world.
It's often said that less is more, literally, with a flurry of single dish restaurants opening lately. Some have predicted that the single item restaurant will be a fleeting trend. Of course, we've always had burger joints, pizza ovens, steak houses and chippies, but the past few years have seen a wave of new openings, increasingly niche. Like the trend for shorter wine lists, menus are becoming pared down with just a handful of options. But are simple menus here to stay? Or are these restaurants just one, hit wonders? The stable platform of the street food trend has provided a financial springboard for individual vendors who are much better placed to take the leap into restaurant ownership. Having perfected their 'signature' dish at the street markets, it is now time to make a permanent fixture of their single item menu on our high streets.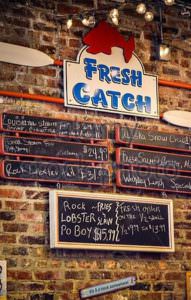 Apparently, the formula is set in stone (or, rather, exposed brick):
Food pun restaurant name
+ simple menu displayed on an exposed brick wall
+ single classic dish
+ hipster servers
x spontaneous decision
= the next big restaurant trend!
The trend for single dish joints originated in New York (don't they all?). From macaroni cheese to fries to rice puddings, if you can think of a comfort food, there's a restaurant for it. And if the queues are anything to go by, niche restaurants are doing very well on these shores too. Others maintain its origins lie in Tokyo, where for a long time restaurants have specialised in serving nothing but the likes of sushi or tempura or dumplings. And in Britain, pie and mash shops have been around for centuries. So instead of offering a range of dishes that cater for a variety of tastes, one in ten of the newest and trendiest hotspots are making menu selection as easy as possible – serving a higher quality of mono-dish foodstuff faster to their hungry clientele.
By excelling in one item, restaurants dispense with the complicated business of stock forecasting and wastage across a wide range of ingredients. It can only be a good thing for both the environment and of course the restaurateur's pocket. Its success is founded on kitchens cooking one thing well. A restaurant offering a pared-down, single-theme menu doesn't guarantee perfect food, but it has a better chance of delivering it than one struggling to serve a wide menu of dishes. And assuming these niche restaurants do what they do well, casual dining " itself an ever-growing trend " is further simplified for customers. Why not be famous for a single dish? To master one dish is a beautiful thing. Escoffier will be remembered for his peach melba. I have enormous admiration for young chefs who are setting up their own ventures – they are driven by pure willpower. Putting all their eggs in one basket isn't without its pitfalls though, if they do only one thing they need to do it well. With a lone dish on the menu there's no hiding if it's not up to scratch. ˜If you're not a jack of all trades then you need to be master of one'.
A simple menu should make life easy for the diner. Research suggests giving a consumer too many options means they fail to make a decision at all. Simple menus with few choices make dining straightforward. That's as long as you can decide which of the many niche restaurants to go to in the first place! I can't help thinking that churning out the same old dishes must get boring for the chefs though. I like to turn up at a restaurant and choose what to eat as the mood takes me. In fact, I love specials, even though I know half the time it's just the chef using up leftovers. And what happens if I fancy a hotdog but my friend wants a burger?
With 10 million millennials in the UK craving experiences that are unique and ever changing, what does the future hold for these single item restaurants? Street food markets seem to also be evolving at a similar pace, I wonder which trend is going to be the hare and which one is going to be the tortoise, which will overtake which, or will the top of the trend battle continue to evolve and adapt to run in tandem? I have visited a few of these 'evolved' street food markets recently and was blown away by the variety and cultural choice available, 'Trinity Kitchen' in Leeds being one of these.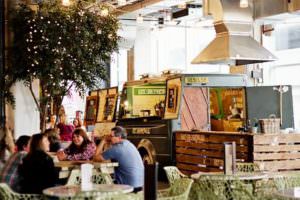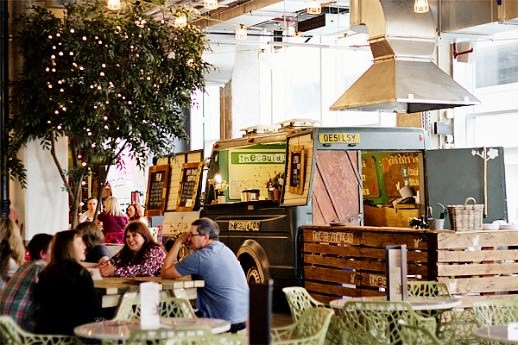 On the top floor of the Trinity shopping centre, Trinity Kitchen boasts over 40 restaurants, rotates five new street food vans every six weeks (via scissor lift!) and offers visitors the chance to experience various flavours and cuisines under one roof. With the floor adorned with AstroTurf and picket fencing, it really brings the outside inside! This new concept that is starting to catch on in our larger cities supports both retail and individual vendors alike.
Ultimately the buzz around niche restaurants tells us that plenty of people love these one trick ponies. But once the dust settles, will we still be standing in line for a lobster roll?
What do you think? Are specialised restaurants just a gimmick? Or does a narrow focus mean a better executed dish? Do you prefer a stripped-down menu, or is more more?
Laura Saxty