Oktoberfest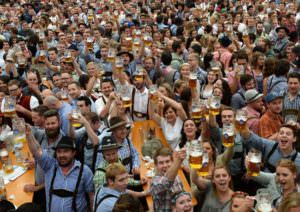 Oktoberfest began in October in 1810 in Bavaria to help celebrate the marriage of Crown Prince Ludwig I. He married Princess Therese von Sachsen-Hildburghausen and it was celebrated on 17th October, five days after the marriage.
A large festival was held in front of the Sendlinger Tor, which is one of the main gates leading to Munich. In 1818 pubs were included in the festival.
There are now 7 main halls at the festival where Munichs six major brewers can be found which are Hacker-Pschorr, Lowenbrau, Spaten, Hofbrauhaus, Augustiner, and Paulaner. All of these breweries adhere to the 4-ingredient rule, and if you ever spend a night drinking in Germany you will notice the difference, the hangover is a lot less!
With the food offering now one of peoples highlights of the festival with traditional food such as the classic Bratwurst Sausage which is a type of German sausage made from veal, beef, or most commonly pork. The name is derived from the Old High German Brätwurst, from brät-, finely chopped meat, and Wurst, sausage, although in modern German it is often associated with the verb braten, to pan fry or roast.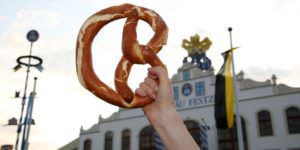 It also wouldn't be a German festival without a Pretzel which is  a type of baked bread product made from dough most commonly shaped into a twisted knot. Visitor's to Munich's Oktoberfest will remember seeing pretzels in huge baskets being sold by so-called Brotfrauen who move from tent to tent selling their wares. This culinary delight is yet another of Bavaria's claim to fame and soft pretzels make a fun and easy snack to serve with German beer. Why not try and make your own Preztel by following this easy to make recipe https://www.bbcgoodfood.com/recipes/1139659/authentic-german-pretzels
Nowadays, the festival is now packed with people dressed in Lederhosen and drindls. You will also find plenty of dancing, oompah bands, carnival rides and all types of German food.
We in Britain now no longer need to shell out flights to travel over to Munich and enjoy the party as the festival has now gone global and hit our shores, where the festival can be found in many cities and towns across the U.K from Edinburgh to Worcester and Belfast to Bristol.
Look at some of the upcoming Oktoberfest events below.
Worcester – 20th and the 21st of October
https://www.oktoberfestworcester.co.uk/
Birmingham – 18th to the 22nd of October
http://birmingham-oktoberfest.co.uk/
Gloucester – 27th and the 28th of October