---
Over the last few the event has grown with popularity. More stalls, more celebrity chefs and most importantly more food and drink!
There is always high demand to get into the chefs tent with 2 Michelin starred Tom Kerridge from the Hand and Flowers, 2015 Great British Bake Off winner Nadiya Hussain and food entrepreneur Levi Roots headlining last year's festival.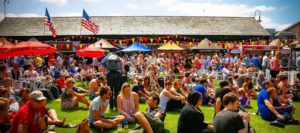 This year's chefs are still to be named but keep an eye on the Gloucester Quays website for more details. http://www.gloucesterquays.co.uk/events/food-and-drink-festival%20-2017/
There is always a wide range of food outlets selling everything from the famous Gloucester old spot sausages and pulled pork, organic burgers, mac 'n' cheese and local homemade ice creams. If none of these take your fancy you could visit one of the many restaurants now located at the Quays. There really is something for everyone.
Alternatively for the budding home cook's out there is a wide variety of ingredients on sale such as local cheeses, oils and organic fruit and veg, so there is plenty of things out there to top up your fridges and larders.
Our favourite part is definitely The Big Red Bus Bar, along with the many different types of local Gin that are on sale!
This is also a great family day out as there is cookery demo's for all ages, face painting, shopping and live music.
This is be a great weekend so it is well worth the journey!
Posted by David Hammond